11 Most Important Google Ad Bidding Strategies in 2022
On Monday, Apple released iOS 15.2, and among many other features, it includes updates to the Legacy Contact settings software. A new tool lets you control who has access to your Apple account — your photos, notes, email and more — when you die. Google and Meta (formerly Facebook) have offered similar setups for years. Instead, Apple had a longer process…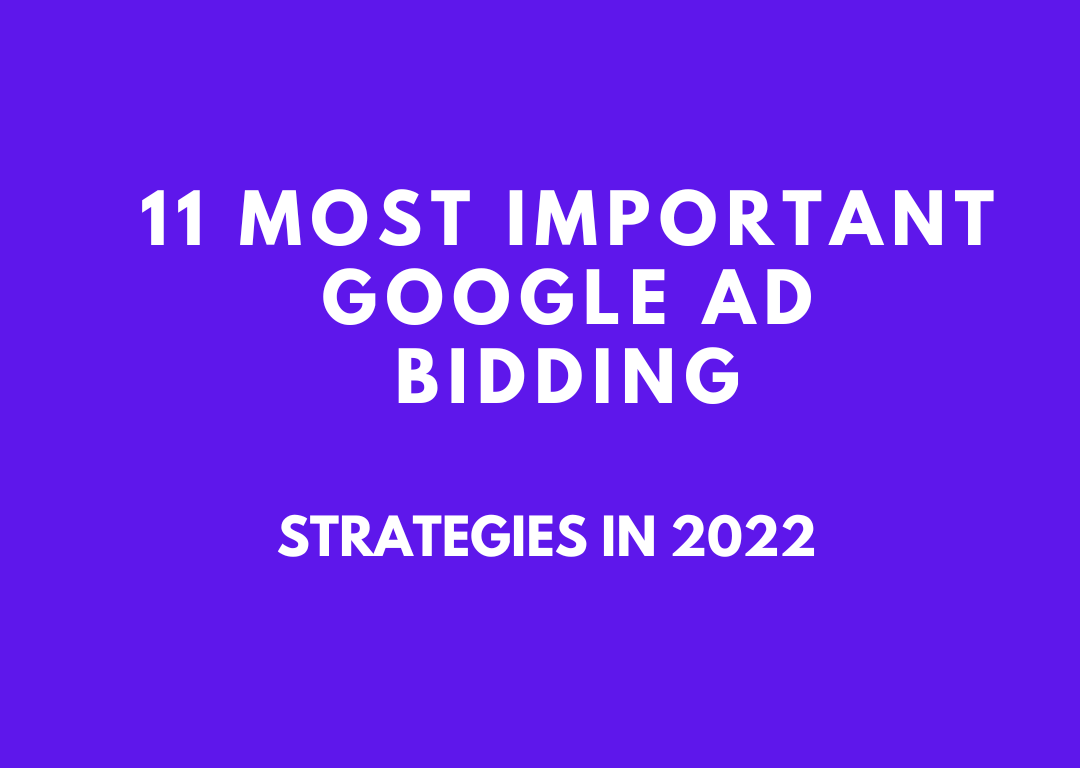 Making the most of your ad revenue depends on your strategic ad bidding plan. PPC ads are often successful when you target your ad content to the right market.
Avoiding click fraud and driving organic traffic to your paid ads to get the most out of your ad budget seems like a tedious task indeed. However, by understanding the ad auction basics and learning the Google ads bidding strategy one can optimize their ad campaigns accordingly.
Paid search networks facilitate great tools and resources to help SMEs invest their marketing capital in the right place. They invest time, effort, and money to look for the right keywords for their PPC ads but most of the time their bidding strategy fails due to a lack of research and understanding of the Google ad system.
To familiarize yourself with the most effective Google ads bidding strategy, we have compiled a list below and talked about each of the most effective ones in detail.
Being an owner of a small business or industry, the PPC concept will be foreign to you. This guide will help you devise the right strategy and propose an effective bid for your ad campaigns.
11 Current Google Ad Bidding Strategies by Google
To help people realize their advertising goals, Google has 11 different strategies available these days. These are listed below:
Manual CPC Bidding
Maximize Clicks
Target CPA (Cost Per Acquisition)
Target ROAS (Return On Ad Spend)
Maximize Conversions
Maximize Conversion Value
Enhanced Cost-Per-Click (ECPC)
tCPM Bidding (Target Cost Per Thousand Impressions)
vCPM Bidding (Viewable Cost Per Thousand Impressions)
CPV Bidding (Cost Per View)
Target Impression Share Bidding
Each business owner has a unique brand marketing strategy following a set of certain advertising goals. Search engines offer a variety of bidding strategies to cater to these goals individually.
Google ads bidding strategy also incorporates a range of diverse marketing goals to satisfy the advertisers as everyone is looking for different business outcomes.
Yes, businesses may have a similar mission to increase conversions and ad revenue at the end of the day. However, trade thinking patterns, ad planning, and process implementation differ from business to business. Some of them prefer improved online presence and emphasize personal branding. Thus, each of them needs a different sort of strategy to follow. Understanding which Google ads bidding strategy is right for your business goals needs deep understanding and practice.
Remaining up to date is also necessary as Google keeps revising and adjusting the old strategies and adding new ones based on clients' experiences. Therefore, you should keep yourself ahead of the game and remain up to date.
Most Effective Google Ads Bidding Strategies
AI has taken the industry by storm and advanced robotics have upped the ad bidding game quite a notch. Google ads bidding strategy has also been influenced by AI in recent times.
This indicates that search engines now have automated bidding tools and features to incorporate AI while advertisers bid.
On the other hand, some advertising managers prefer to run the ad campaigns manually.
With an available variety of bidding methods out there, choosing the one best suited for your business becomes a dilemma indeed. However, by going through our explanation of each bidding strategy below you will be able to grasp the crux of it to help you choose the right one for you.
1. Manual CPC Bidding
One of the most initial ones for even the novice advertisers out there is the Manual CPC bidding method.
It facilitates active control over your proposed bids and is a manual process overall. When opting for this Google ad bidding strategy, you have to dedicate increased time and effort to running your ad campaign.
To follow the manual CPC bidding strategy, set bids according to your manually chosen cost per click for the ads. In contrast to the automated bidding method, the manual method lets you set the maximum ad budget that you are willing to pay per click. This method suits people experienced in PPC advertising and is willing to go an extra mile for making their campaign a success. You can set your keywords and adjust them according to popularity and profitability.
This strategy also works well for in-house PPC advertising agencies focusing on remarking and looking to make the most out of their ad spend.
As a con, however, we can say that manual work needs time and concentration and if you are running multiple campaigns at a time, you may not be able to manage it effectively.  But once you get yourself fine-tuned with the latest PPC upgrades, using this method you can get more data and improve your approach accordingly.
As each keyword, ad group, and placement has a set amount that you pay while bidding for ad space, there is some sort of control given to you to fix the maximum ad spend. If you have initiated a non-branded campaign, you will soon realize what sort of CPC strategy you have to implement.
2. Maximize Clicks
Maximize clicks follows an automated pattern and is a set-it and forget-it strategy for PPC marketing to gain clicks. You set a budget for your expected clicks and Google Ad Words monitor the no. of clicks automatically.
After setting your bids, you will start receiving clicks possible enough within your specified ad budget. You can set a capital on your bids to control the maximum ad spend on bids and can control your daily ad budget this way.
It provides you with a motivation to spend your ad budget on gaining something fruitful and increased clicks mean an increment in ad revenue as well. Maximizing traffic to your page means improved exposure and lead generation.
For advertisers, brand exposure is the ultimate goal of their PPC marketing. Maximize clicks Google ads bidding strategy helps you achieve that. Implementing it with CPC bidding is useful in making the most out of your ad spend. If you have a good conversion rate per click but you are looking to increase volume as well, this strategy is the right option for you.
Majorly emphasizing increasing the click rate, driving traffic to your business site is one of the most fruitful outcomes of this method making it a little an effective Google ads bidding strategy to rely on.
3. Target CPA (Cost Per Acquisition)
Target CPA zeroes on increasing conversions within the cost per action or acquisition frame that you have specified.
It is a Google ads bidding strategy strongly focused on automated contextual signal evaluation to tailor the bids for Google ads auction. It is a very useful strategy for maximizing conversions based on your conversion volume history and eligibility criteria for entering the auction.
This bidding method can be used in a marketing portfolio individually as well as as an advertising team campaign.
In short, using Google's machine learning cues Target CPA optimized your bids to set up your conversion goals keeping in mind your CPA budget.
If you are planning to run multiple campaigns side by side and there are several advertising agendas in the pipeline, this strategy will probably be the best for you. Streamlining your bids according to your conversion target will help you achieve your PPC marketing goals.
SMEs, B2B businesses as well as large conglomerate marketing agencies can also generate leads by adopting this strategy to optimize their CPA and increase their ad revenue.
4. Target ROAS (Return on Ad Spend)
Return on ad spend or ROAS is something you expect as revenue after you spend some money on your PPC ad marketing. By opting for this strategy, you can target ROAS directly and make a bid according to that set ROAS.
For instance, if you are trying to increase your conversions, then you can maximize your conversion value through the bid setting in Google Ads. Your bids are set according to the conversion value that Google calculates based on the previously reported values. You can install a conversion value tracking plugin on your website. Then Google fixes your CPC bids to the maximum limit so that your conversion value increases too. And as a result, you can achieve your average desired ROAS.
Previous history and adequate data are required for this strategy to be effective as it uses Google's AI system to manage and track the data in real-time. Data accuracy is also important to get the right results. Previous conversion values should be enough to provide Google with sufficient performance history. The recommended figures by Google are 15 conversions within the past month at least.
As the e-commerce websites and online stores are largely focused on click conversion rate this strategy can be highly effective there.
Remember, rather than focusing on volume, this Google ad bidding strategy emphasizes product cost to deliver the appropriate conversion value that the advertisers desire.
5. Maximize Conversions
Maximize Conversions strategy, as the name suggests, aims at providing an automated solution for increasing the conversion rate. It sets the bid in such a way that your ad spend is allocated mainly to extract as many conversions as possible.
These bids are not keyword-based. Rather, Google sets a CPC bid based on your targeted advertising goals. This strategy also follows Google's advanced machine learning to set the bids in an automated manner.
The bids are tailored automatically during the auction to propose the right bid at the right time. The bidding strategy works well when previous data has been collected by the AI-based tracking system so that the ad campaign runs smoothly.
A certain amount of daily ad budget is required to use this strategy for each of your marketing campaigns. If you are an advertising partner having a shared budget then you have to opt for this strategy thoughtfully. If you haven't set a target CPA then your ad budget would be already spent until you reach your maximum conversion target.
So the question arises about when to use this method? Google will need previous history, quality conversion score, and a well-planned campaign to get the most out of your ad spend.
6. Maximize Conversion Value
To maximize your conversion value you can select this Google ads bidding strategy. Launched only recently by Google Ads, this bidding strategy uses an automatic search to find the best CPC bid for your ad. The search repeats every time the as appears on Google SERPs.
If you don't want to target ROAS and would like to spend your ad budget focusing on conversion value instead, this bidding strategy is for you.
Maximize conversion value let you spend your budget efficiently and as result, you get the highest conversion value possible.
Google is hungry for conversions that provide a good ROI and make a considerable profit. This strategy makes it easy for e-commerce ad campaigners to drive the optimum profit by heading straight for the conversion values.
7. Enhanced Cost-Per-Click (ECPC)
By selecting ECPC smart bidding strategy you can adjust your bids according to the auction-time bidding signals.
Before you devise your entire PPC marketing strategy based on the ECPC method, you must understand the basics. By adjusting your cost per click rate, the Google bidding system tailors your manually set bids to increase conversions and conversion values. You can set the maximum cost per click for your PPC ads by using this strategy. The clicks that are likely to generate more sales are automatically given preference to ensure maximum conversion.
Although it is also a subset of the smart and strategic bidding system launched by Google ads, it's not the same as Target CPA or Target ROAS. As the working behind it is partially automated the actual bid setting is done by the advertisers manually.
It means that the advertisers are in full control of their bids and wouldn't have to set and forget the cost per click rate that they have fixed. Google judges by drawing previous history results to decipher which keywords are more convertible and to adjust the bids accordingly.
The objective of ECPC is to get your conversions increased through manual bid adjustment.
If the e-commerce data is sufficiently available then Google can make this strategy work for your intended marketing goals. However, in certain niches where there isn't previous data present, this strategy cannot reap optimum benefits.
8. tCPM Bidding (Target Cost Per Thousand Impressions)
tCPM is the bidding strategy focused on the number of impressions in Google search engines plus how much it costs per every 1000 of those impressions on average. When you select this Google ads bidding strategy, the search engine giant will analyze your campaign and gauge the reach of your business to the target audience.
By determining your reach the average CPM is kept low or equal to your intended cost so that your campaign visibility is prioritized. To increase your online presence while maintaining your set budget, this strategy is a good way to start.
Display networks are a group of sites and ad space displaying your brand advertisements. tCPM bidding strategy enhances your brand exposure and is an effective choice for display networks' ad marketing.
9. vCPM Bidding (Viewable Cost Per Thousand Impressions)
Inspired by tCPM, vCPM differs a bit in the functionality by focusing more on viewable cost per 1000 impressions specifically.
The standard for viewability in display ads by Google is that 50% of them remain on screen for one or more seconds. For motion clips and videos, they must remain on screen while playing for a couple of seconds for Google to count them as viewable ad content.
vCPM is a manual bidding method require taking complete control over your bids. To increase your brand publicity and solidify your online presence, this strategy should be opted for. vCPM ensures that your brand message has been viewed by the target audience and has reached the intended audience making sure that your ads are being viewed by the searchers and only paying for them after that seems like a fair deal.
As per Google's recommendation, setting up a higher bid for the vCPM bidding strategy gives you an edge over your competitors in the PPC marketing arena.
10. CPV Bidding (Cost Per View)
CPV is a bidding strategy based on cost per view on your PPC ads. The number of views your ad reviews determines the cost that you will be charged per view or interaction,
First, you can start following this method by setting a bid amount and adjusting your maximum ad spend limit. Your video ads can win the auction by implementing this strategy and targeting the audiences, motivating them to watch the videos.
If the strategy becomes successful and your videos win the views then ultimately your ad campaign will be fruitful. As a default Google ads bidding strategy, views for your video marketing campaigns will increase by adopting this approach.
11. Target Impression Share Bidding
Target Impression Share Bidding is a smart dongle ad bidding strategy running your ads in three locations. The bids are set to aim for ad space in three places:
Absolute top of the page
Top of the page or page header
Anywhere on the page
As the preference is before the bid by the advertisers, Google sets a higher CPC bid to follow that preference. This bidding tactic is a sound bidding method to raise the visibility graph for your ads and increase brand awareness.
This strategy is an ideal method to propose bids for ads that will only show when someone looked up for them. They will be displayed in prime locations on the site and may appear early in SERPs.
Now it's up to you to set up the bid according to your chosen, maximum CPC. Remember, there is a limit to your potential profitability so don't go overboard and don't adjust your bids beyond your ad budget.
Manual Vs Automated Bidding – Which One's Better?
Generally, automated bidding is suitable for small account-holding advertisers and moderate ad campaigns.
Mostly, it is thought of as a temporary fix for ad bidding not entirely suitable for large-scale ad campaigns.
For this reason, automated strategies are preferred when there is a time constraint along with a massive advertising plan at work. The automated bidding method will help large-scale advertisers by letting AI-based systems do the main work and monitoring the CTR, keyword imp, sessions, and conversions at the front end.
If by any chance, CTR is not improving and generating low impressions, you should be alerted to solve the issue. Pausing the keyword should be opted for in the case of click-through rate. Ultimately though, in the long run, manual bidding lets you be the master of your ad campaign and lets you control your bidding strategy completely and independently.
The Best Google Ads Bidding Strategy
As business managers want a precise solution for their PPC advertising concerns, they look for the best option out there. However, there isn't a definitive answer to this, unfortunately.
Before picking up a suitable Google ads bidding strategy, consider your goals first. Consider what your ad objective is, who you are targeting, what paid search will achieve for you, and what sort of ad revenue are you expecting from it. Then carefully choose the strategy bestowed with your ad goals.
For instance, if your focus is on maximizing the brand visibility spectrum of your business, you should pick the Target Impression Size bidding method. However, if you opt for Maximize Clicks instead, your strategy may not align with your expected business outcomes.
Remember, these 11 strategies are different from each other and each of them focuses on a particular marketing goal. Therefore, understanding these differences is important before making your choice to achieve your outcomes successfully.
At first, Google's bidding game would seem like a complex maze, yet it facilitates variety in the advertising arena. By success-oriented business opportunities for each type of business out there, you can advertise your campaign according to your specific needs.
Starting up, you have to make sure you have the right budget and marketing resources to finance your ad campaign and leverage your chosen Google ads bidding strategy.
Experwith lamenting the strategies will lead to finding something that fits the bill. It never hurts to explore and try a pragmatic approach to achieve PPC success for your brand.
Flexibility is inevitable in a technology-driven, dynamic era. It opens the doors for positive change and fruitful outcomes in the wake of it. Every day new challenges are being introduced in the ad market. Adjusting to this now and then is fundamental for improving your Google ad bidding strategy.
WAS THIS ARTICLE HELPFUL?
Support us to keep up the good work and to provide you even better content. Your donations will be used to help students get access to quality content for free and pay our contributors' salaries, who work hard to create this website content! Thank you for all your support!